category: Sustainability
Monday 31 January 2022
Sustainable building meets Science with the ventilated façade
A bridge between the past and the future, a perpetual movement towards improvement: we present the Ministry of Science and Technology of Buenos Aires. A unique place of its kind, where sustainability marries knowledge every day, as well as the first building of this type in Argentina.

A complex of 45,000 m2 of ventilated façade, entirely covered in extruded stoneware with white glazed terracotta slabs, 35 x 120 cm size, which meets the basic requirements and performance for perimeter walls and significantly improves living comfort, both in terms of sound insulation and energy efficiency. In fact, thanks to the implementation - by Aliva - of this facade structure and brise soleil (sunshades), in addition to the installation of solar thermal panels on the roof, it has been possible to reduce more than 95% the effects of solar radiation during the summer season, resulting in energy savings in terms of air conditioning, consumption and environmental benefits.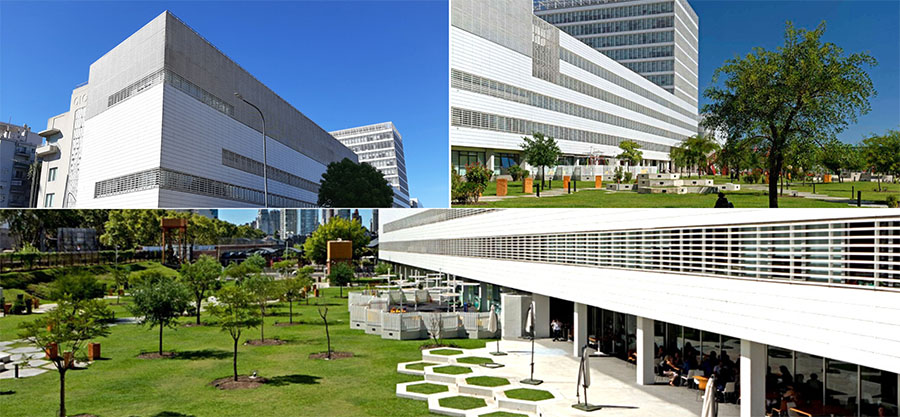 In the context the architectural forms of the ventilated facade are simple and essential, with a brilliant white that lasts over time, resistant to rain and external atmospheric agents, thanks to the implementation of an innovative photocatalytic nanotechnology - by Aliva - with self-cleaning power. The photocatalysis process allows to purify the air surrounding the complex, reducing the concentration of polluting particles and eliminating the presence of bacteria and viruses. A particularly important factor in a metropolitan city, very busy and consequently polluted, such as Buenos Aires. The technology implemented allows the creation of a real green lung for the city, a concrete help that is added to the public green of the district of Palermo, headquarters of the Ministry. The realization represents a fundamental stage of architecture, a starting point that lays the foundations for new and future buildings and renovations in green building, in full respect of the environment, without sacrificing aesthetics, combining design with functionality.




Energy efficiency has played a fundamental role since the design of the building and its ventilated façade and the Argentine architect Juan Carlos Angelomé has been able to give it the right weight, alongside the aspect of sustainability also the functional value of the building. In fact, during the second phase of construction, an interactive science museum, a library, a media center and several classrooms for teaching sessions were also included in the complex. The public project to build a Ministry of Science - strongly wanted and then implemented by the Argentine Government - is linked to the hope of inspiring the future, starting precisely from an illustrious past, which led to the country three Nobel Prize winners in science. To this desire is added the objective of enhancing the productivity of the industrial sector and creating new social and cultural perspectives for the whole of Argentina.

Whatever is your request, let's make it happen together.
For a consultation contact us here